I've always found inspiration in the developing world where the pace is slow and the people have so little. Usually it's the strength and resilience in the women that I admire the most. However on a recent trip to Central America I have been changed forever by a group of children – many of them teenagers!! In fact the most respectful, thoughtful , smart, gentle and happy teens I've ever come across. Not a lick of attitude amongst them! "Who are their parents?" you ask. No parents, just an amazing organization and a lot of love and structure. As many of you know each summer [...]
I believe women in general are extraordinary, but mothers (not to blow my own trumpet) never cease to amaze me. As the proud mother of four incredible little people (ages 11,9,6, and 4) I understand the meaning of selflessness. Like most families, there is never a dull moment in our house. I'm constantly wishing I had more time to spend with each child and more time to myself. And I wish my bathroom felt less like a highway! Regardless of whether we've chosen to work from home, climb the corporate ladder, start a business or stay home with the kids – mothers are the busiest [...]
It's January 7th and in true form I'm just getting around to saying Happy New Year. The last 6 weeks since leaving Nicaragua have been a blur with a fabulous trip to Australia to spend Christmas with my family. We are finally back in the US,  unpacked, getting settled and establishing some much needed routine.
This morning I'm sitting alone in my kitchen after dropping the 4 monkeys off at school enjoying my coffee without any interruptions. I'm soaking up the silence, the beautiful silence in the house – it's just the coffee machine and my thoughts. (I have missed you coffee machine)
We've been in Park City for a week now and I'm experiencing the familiar transitional period that confuses both body and mind. I feel trapped and claustrophobic in so many layers of clothing and the cold temperatures chills me to the bone. I'm slowly getting use to the need to buy so much – someone needs new boots, new jackets, new jeans, new gloves. I'm struggling with the amount of money walking out the door for simple day to day living. On day 3 I did a Costco run and was totally overwhelmed with the size of EVERYTHING. I realize it will all look normal again soon but this is my transition.
 Just as the inefficiencies and the challenges that come with a developing country kick my butt when first arriving in Nicaragua it takes a week or two to acclimate to the faster paced world of abundance too. I was shocked at the cost of living in Australia where a cup of coffee now costs $5. When did that happen???
I always feel like a bit of an outsider when returning to the 1st world – a bit left behind. Are my kids the only kids out there without iPhones and iPad Minis? Do I need to book my kids into multiple activities after school? Should we buy a house? Do I belong here? Where is home? Our life in Nicaragua feels so far away.
However, as I enter my second week here, I can sense myself feeling calmer, grateful and blessed, and I know my transitional period is coming to an end.
I'm marveling at the 1st world conveniences and at how easy everything is – roads are paved with no cows, pigs or children to dodge, supermarkets are stocked to the brim with variety galore, everything is at my fingertips and works so efficiently. My brain even feels like it's got its feet up without the need to be translating life into Spanish.
I'm marveling at the beauty of the snowy mountains, the crisp blue sky and the quaintness of Park City. I love the people who have chosen to live here – they are so open and friendly and people who I want to see more of.  We are so grateful to have our Aussie friends here for 4 months who make us feel like we have family down the road.
On Sunday Miss 3 years old Delilah mastered the pizza stop on her skis and for the first time we all skied down the mountain together hooting and hollering encouragement to the smallest McBroom. How cool is that?
This morning we returned to the Montessori school that all four kids attend and it was like coming home. We were all excited and filled with warmth and love seeing the familiar faces of teachers, classmates and their parents who all welcomed us back with open arms.
It's really lovely to be back. We miss you Nicaragua and we will return in July, but for now Park City is home and what a beautiful place to be.
Happy New Year friends.
xxx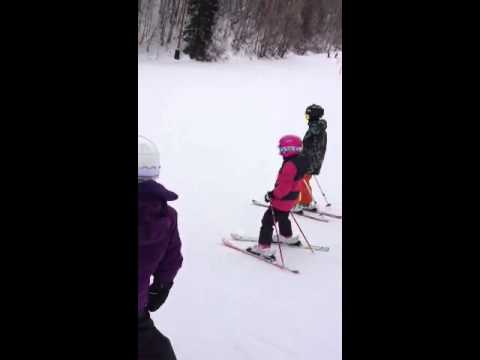 HipMum Recommends