I've always found inspiration in the developing world where the pace is slow and the people have so little. Usually it's the strength and resilience in the women that I admire the most. However on a recent trip to Central America I have been changed forever by a group of children – many of them teenagers!! In fact the most respectful, thoughtful , smart, gentle and happy teens I've ever come across. Not a lick of attitude amongst them! "Who are their parents?" you ask. No parents, just an amazing organization and a lot of love and structure. As many of you know each summer [...]
I believe women in general are extraordinary, but mothers (not to blow my own trumpet) never cease to amaze me. As the proud mother of four incredible little people (ages 11,9,6, and 4) I understand the meaning of selflessness. Like most families, there is never a dull moment in our house. I'm constantly wishing I had more time to spend with each child and more time to myself. And I wish my bathroom felt less like a highway! Regardless of whether we've chosen to work from home, climb the corporate ladder, start a business or stay home with the kids – mothers are the busiest [...]
Dear Rachel Macdonald
Just wanted to give you an update and let you know that your laptop was donated to Sylvia this week.
Sylvia is 17 years old. We met her last year and she spends a lot of time with our family as a babysitter. 2 years ago Silvia dropped out of high school because her mother could not longer afford her school uniforms or books (her father is an alcoholic). Since then she has been working during the week to earn money to pay to attend school on Saturdays to finish her high school education. She will graduate at the end of the year and has plans to enroll in University next year. Despite the lack of support from her family who feel she should get married and have a baby, she is determined to finish high school, get a degree in Banking/finance and have a career. She has been supporting herself since she was 15 years old. She will be the first person in her family to attend university.
She was so so grateful for the computer. She couldn't believe it!! It will make an enormous difference in her life right now. I explained to her that you had bought the computer in Australia and how we had gotten it to Nicaragua via my parents. She was completely humbled that someone would be so kind and generous to her.
So a big shout out to you Rachel. Your kind heart and generosity has made an enormous difference to a young woman here in Nicaragua. I feel so honored to be the one here on the ground delivering your laptop.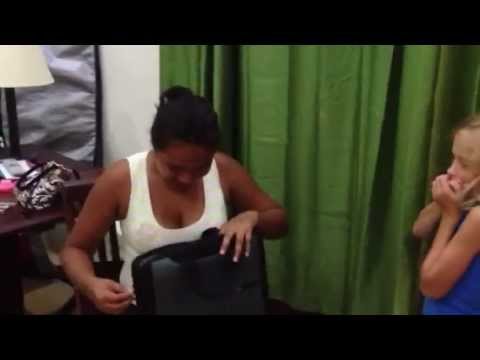 HipMum Recommends